Abrar
Home City
Sentinel
Race
Redguard
Gender
Female
Health
25974
Reaction
Justice Neutral
Pickpocket
Medium
Profession
Commoner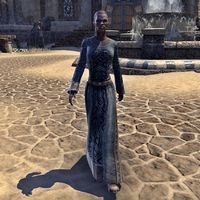 Abrar is a Redguard commoner found in the city of Sentinel between the fountain in front of the palace and halfway along the overpass to the northwest.
When spoken to, she will say:
"Have you been to the palace yet? It is a nest of asps and jackals.
If you are looking for the truth, you would be better served by speaking to the people."