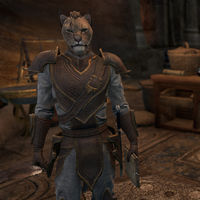 Abiznaz is a Khajiit merchant who can be found at the Outlaws Refuge in Sentinel. He is located in the southeast corner, next to Uazee.
He is more well-known as the purveyor of poisons but the Guard recently confiscated his supplies:
"I'm sorry, but the Guard confiscated all of my equipment. I can't make any poisons for you, so do not ask."
"I sell hundreds of poisons a year, and just because one ends up in the goblet of King Fahara'jad's taster, I'm some kind of criminal?"
He is the author of The Dose Makes the Poison, written under the pseudonym of Zanziba the Clever which can be found right behind his store counter. Zanziba is his name spelled backwards.