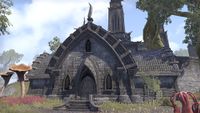 Abandoned Home is an abandoned house on the eastern outskirts of Narsis, by Lake Hlaalu.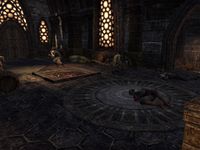 You will visit the house during the related quest. There is an upper floor and a basement, with two side rooms each on the ground and second floor. A trapdoor in the corner of the basement leads into the Narsis Ruins. Every room is filled with dead and dying Villagers. A copy of the lore book, Shad Astula Academy Handbook, can be found on a crate inside the house.
Councilor Ralden and Madras Tedas are near the front door. The outcome of the quest is different depending on who you helped earlier. If you completed A Timely Matter, the villagers Madras brought to the ruins will have died during their attack. If you completed Ratting Them Out, Councilor Ralden will die.
Related Quests
Edit