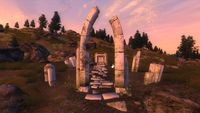 Trumbe is a small Ayleid ruin northwest of Kvatch containing undead. It contains only one zone, Trumbe.
Trumbe is mentioned in Grommok's Journal as one of the dungeons the adventurers tried to loot, and is where Dawnfang/Duskfang was discovered.
Despite Grommok saying in his journal that a trap in Trumbe broke Syndelius' arm and almost "crushed him to death", no traps are located in this ruin.
The exterior is located at coordinates: Tamriel -40, 2
This location's map marker (M on map) is named Trumbe (editor name TrumbeMapMarker). The entrance door is NE of the marker, 70 feet away.
3 Wilderness Creatures (Highlands variety) are near the entrance
1 Wilderness Creature (Plains variety) is near the entrance
The following plants can be found near the entrance: 11 Lady's Mantle plants, 21 Motherwort plants, 6 Viper's Bugloss plants, and 12 Goldenrod plants
Zone 1: TrumbeEdit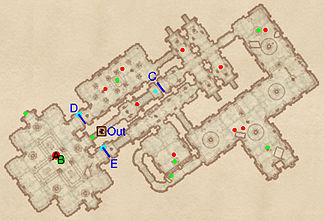 From the entry door (Out) you find yourself in a corridor that leading northeast (past one enemy) to the gate at C, which is initially closed but can be opened simply by stepping on the pressure plate. From that point there are multiple options to make it through to the boss chest (B).
To deal with the fewest possible enemies, jump down from the elevated walkway in the first room, and take the southern corridor, leading to gate E.
The most obvious path is to head straight across the elevated walkway and go through the large southeastern room.
The third option is to jump down in the first room and take the northern corridor, leading to gate D.
Occupants:
Treasure:
Doors and Gates:
There is one door (at Out) in/out of this zone, leading outside
3 Iron Gates (opened remotely) at C, D, and E

C is opened by stepping on the pressure plate in front of it (cyan dot on map).
D and E are both opened by "Press Blocks" on either side of the door (cyan dots on map).