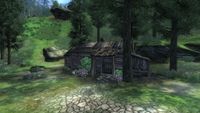 Roland Jenseric's Cabin is a house between the Imperial City and Cheydinhal (quest-related).
It stands at the end of a short side lane that runs north from the Blue Road, east of its junction with the Red Ring Road.
It is the cabin where Imperial City resident Roland Jenseric and his girlfriend, Relfina, used to go to "get away from the chaos of the city." The Imperial City quest Order of the Virtuous Blood deals with the aftermath of Relfina's death. As part of that quest you will visit Roland Jenseric one or more times in this cabin. Thieves take note that there is a flawless diamond on the table.
Related Quests
Edit