Rat Meat
00

03368F

1
0.5
Alchemy Effects
1st
 Damage Fatigue
2nd
 Detect Life
3rd
 Damage Magicka
4th
 Silence
Sources
# Samples
86
Creature
Rats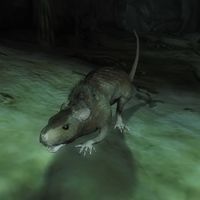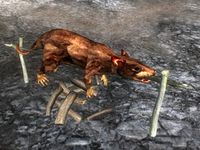 The ingredient Rat Meat is primarily collected from dead Rats. Rat Meat is common in goblin dungeons, since goblins often keep domestic rats as a food source.
In addition to live rats, Rat Meat can be harvested from Roasted Rats found over cooking fires in various goblin dungeons and campsites. These are non-respawning containers that provide a guaranteed three samples. There are 21 Roasted Rats in the game; the highest concentration is within Fort Irony, which contains three.
Ingredients
Edit
86 guaranteed samples can be found, in the locations marked with magenta crosses on the map. The places with the highest numbers of samples are:
It can also be found randomly in the inventories of alchemy vendors and in some loot chests.
Creatures
Edit
Rat Meat comes from most types of Rats, including the standard Rats encountered everywhere as nuisance creatures. Some rats that do not yield Rat Meat include those identified explicitly as Sewer Rats (found in the Imperial Prison Sewer), the possibly invisible ones near Fort Caractacus, the test rat in Lazare Milvan's basement, and Llevana's Tunnel Rats.
Rats can randomly appear in nearly every dungeon in the game at all levels. Places where multiple respawning rats are guaranteed to appear include (red circles on map):