Mutton
00

033686

2
2
Alchemy Effects
1st
 Fortify Health
2nd
 Damage Fatigue
3rd
 Dispel
4th
 Damage Magicka
Sources
# Samples
42 (respawning)
Creature
Sheep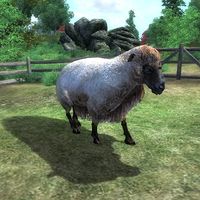 The ingredient Mutton is primarily found as food but can also be collected from dead sheep.
Ingredients
Edit
42 guaranteed samples can be found (these locations will respawn, since mutton is food) in the locations marked with red crosses on the map. The places with the highest numbers of samples are:
It can also be found randomly in the inventories of food vendors and in food containers.
Creatures
Edit
Mutton can be collected from some, but not all, varieties of dead sheep. Sheep are non-aggressive creatures that can be found at any level, although attacking someone's sheep is illegal and will give you a 5 gold bounty.
The places where sheep bearing mutton can be found are:
3 sheep are found at Shardrock (red square). These are the only three sheep who respawn.
7 sheep are found in Water's Edge (magenta square), all of which die during the quest Infiltration (although you cannot collect the mutton during the quest, you can subsequently return and collect it).
4 sheep are found in The Sea Tub Clarabella (magenta circle). These sheep are likely to be killed during the non-journal quest Illegal Cargo.