Leveled Item: Kvatch Cuirass

(

00

0C49C4

)


(All statistics are for level 25+ version)

Type
Cuirass, Light Armor
Editor ID
MS49KvatchCuirass25
Statistics
 Rating
7.5
 Health
240
 Weight
9
 Value
1780
Enchantment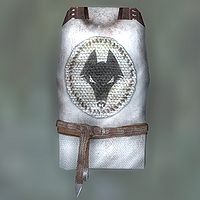 Savlian Matius' Kvatch Cuirass is given as a reward for completing The Battle for Castle Kvatch. The regular, unenchanted cuirass worn by the Kvatch guards is also identified as a "Kvatch Cuirass", and is identical in appearance to the enchanted cuirass. Information on the guard version of the cuirass can be found at Guard Uniforms.
Leveled Statistics
Edit
Level
Effects
1-4
00

0C49BF

9
240
580
7.5
Fortify Endurance 2 pts
Fortify Strength 2 pts
5-9
00

0C49C0

9
240
780
7.5
Fortify Endurance 3 pts
Fortify Strength 3 pts
10-14
00

0C49C1

9
240
980
7.5
Fortify Endurance 4 pts
Fortify Strength 4 pts
15-19
00

0C49C2

9
240
1180
7.5
Fortify Endurance 5 pts
Fortify Strength 5 pts
20-24
00

0C49C3

9
240
1580
7.5
Fortify Endurance 7 pts
Fortify Strength 7 pts
25+
00

0C49C4

9
240
1780
7.5
Fortify Endurance 8 pts
Fortify Strength 8 pts