Ginkgo Leaf
00

033678

1
0.1
Alchemy Effects
1st
 Restore Speed
2nd
 Fortify Magicka
3rd
 Damage Luck
4th
 Shock Damage
Sources
# Samples
7
# Plants
0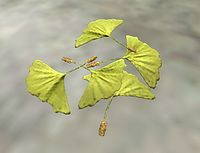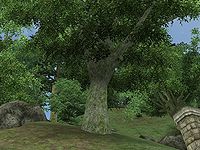 The ingredient Ginkgo Leaf is only found as already harvested samples. Although one of the trees found in Cyrodiil is a ginkgo tree, the tree cannot be harvested and the only way to identify the tree as a ginkgo tree is to look in the construction set.
Ingredients
Edit
7 guaranteed samples can be found in the following locations:
It can also be found randomly in the inventories of alchemy vendors and in some loot chests.