Dreugh Wax
00

033673

70
1
Alchemy Effects
1st
 Damage Fatigue
2nd
 Resist Poison
3rd
 Water Breathing
4th
 Damage Health
Sources
# Samples
4
Creature
Land Dreughs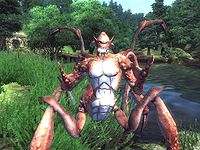 Dreugh Wax is a rare substance primarily collected from dead Land Dreughs.
Ingredients
Edit
4 guaranteed samples can be found in the following locations (magenta crosses on map):
It can also be found randomly in the inventories of alchemy vendors (starting at level 18) and in some Monster loot chests (starting at level 15).
Creatures
Edit
Land Dreughs are encountered both inside dungeons and outside in the wilderness. In Monster Dungeons (circles on map), Land Dreughs will be encountered starting at level 17. Boss-level monsters are guaranteed to be Land Dreughs at level 15. Dungeons containing boss monsters are indicated by purple circles on the map; these dungeons also contain standard monsters who may be Land Dreughs at level 17 and higher.
Outdoors, they are found in Rainforest and Swamp regions (squares on map). In the wilderness they appear starting at level 17; along roads, they appear starting at level 15 (blue squares). The final place where it is possible to encounter Land Dreughs is in the Arena, where they can be the opponent in the Grand Champion matches at levels 15-17 (along with two Ogres). Land Dreughs will not be encountered before level 15.