This page is currently being rewritten as part of the Morrowind Overhaul Project.
The page is being rewritten and checked in several stages. If you make an addition to this page, please update this template accordingly, but make sure you have observed the project guidelines.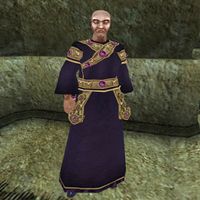 Trebonius Artorius is an Imperial battlemage, and the Arch-Mage of the Mages Guild in Vvardenfell. He is generally regarded as somewhat of a joke by the rest of the guild; while he is an outstanding Battlemage, his ability to lead the guild is somewhat lacking. This is even more apparent when one encounters the strange quests he offers (Mystery of the Dwarves and Kill the Telvanni Councilors) as well as a certain quest from Ranis Athrys about a spy in the Mages Guild. He's also the man to see if you've been expelled from the Mages Guild. Talk to him, and he'll state that you need to "reflect on what you have done". Wait about 7-14 days, then he will let you come back into the Mages Guild.
His unique staff has some powerful enchantments on it. He wears an extravagant robe with matching belt and shoes as well as the necromancer's amulet. He also carries a unique potion of Cure Common Disease, five Exclusive Restore Magicka potions, an Exclusive Rising Force potion, and a Cheap Fortify Health potion.
Despite his shortcomings as a leader, Trebonius has a wide array of powerful spells. Aside from his natural charm and ability to absorb Fatigue from others, he knows the following spells: Dire Weary, Great Feather, Second Barrier, Strong Fire Shield, Strong Frost Shield, Strong Shock Shield, Blood Despair, Dire Weakness to Fire, Dire Weakness to Frost, Dire Weakness to Magicka, Dire Weakness to Poison, Dire Weakness to Shock, Drain Blood, Ghost Curse, Toxic Cloud, Wild Distraction, Absorb Endurance, and Absorb Intelligence.
He has gained a colorful reputation among his fellow guild members, with many of them commenting on his unique activity as guild leader.
Quests Given
Edit
Related Quests
Edit
Trebonius is one of the most prominent NPCs to be affected by the Moving NPCs glitch. In patched versions of the game, a script runs repeatedly to see if he has been affected by this problem. It moves him back to his starting point if he becomes inaccessible.
If you ask Trebonius about Arch-mage before your skills or attributes are enough for Arch-mage, and then kill Trebonius in the Arena, you will get a Journal entry saying that you are now the Arch-mage, but you won't actually become Arch-mage. Asking others in the guild about advancement results in them saying that only Trebonius can promote you to Arch-mage. Since he is dead, at this point it becomes impossible to achieve Arch-mage. ?