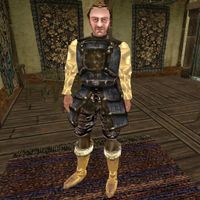 Iratian Albarnian is an Imperial master-at-arms and Trooper of the Imperial Legion.
He is located in Shenk's Shovel in Caldera, and offers medium training in Long Blade and Blunt Weapon, and minor training in Axe.
Iratian wears an Imperial chain cuirass, netch leather greaves, heavy leather boots, and a common shirt with matching pants. He carries a pair of common shoes and an Imperial broadsword. Aside from his natural charm and ability to absorb fatigue from others, he knows no spells.