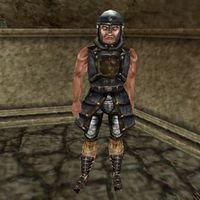 Ertius Fulbenus is an Imperial warrior and spearman of the Imperial Legion, he can be found inside the Madach Tradehouse.
He wears an Imperial chain coif, an Imperial chain cuirass, Imperial steel greaves, netch leather boots and a pair of common pants. He wields an Imperial shortsword.
Aside from his natural charm and ability to absorb fatigue from others, he knows no spells.