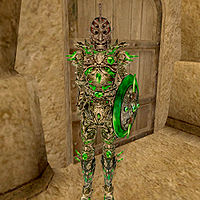 Enar Dralor is a Dark Elf buoyant armiger stationed at Ghostgate. He can be found in the bedrooms in the lower levels of the Tower of Dusk. He is a high-ranking military official of the Tribunal Temple, serving as Knight Commander of the Ordinators.
He is wearing a glass cuirass with matching pauldrons, greaves, boots, and shield and an extremely rare daedric face of terror, one of only two in existence. He is also wearing an expensive shirt with matching pants and he is carrying some expensive shoes and a glass jinkblade. Aside from his natural resistance to fire and the sanctuary provided by his ancestors, he knows no spells.
Despite being referred to as an ordinator by Ghostgate's residents, he is actually a buoyant armiger.