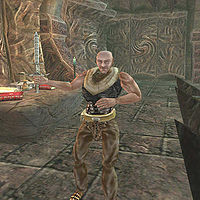 Depusanis Denian is a hostile Imperial agent who can be found in Maelkashishi.
He is a medium trainer in Speechcraft, Light Armor and Sneak, if you can manage to speak to him.
Depusanis wears a boiled netch leather cuirass and common pants with matching shoes and ring. He also carries an leveled enchanted short blade and a bottle of sujamma. Aside from his natural charm and ability to absorb fatigue from others, he knows no spells.