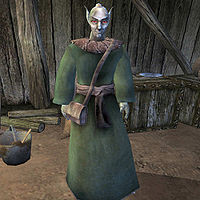 Daren Adryn is a Dark Elf drillmaster and Bully of the Camonna Tong living in Gnaar Mok. He is the local Camonna Tong bigwig and can be found in Nadene Rotheran's shack, their local meeting place. He is soft-spoken, but ruthless.
He has been threatening Thieves Guild member Ahnassi, attempting to pressure her into betraying the guild to receive "protection" from the Camonna Tong. Ahnassi is very afraid of him, and if you are male, she will ask you as her "special friend" to kill this "bad person".
If you ask him about Ahnassi, he will deny everything, and advise you not to bring up the subject again. If you still do, he and the other Camonna Tong members in the shack will turn hostile and attack.
Daren wears a common robe along with matching shoes. He also carries a demon tanto. Aside from his natural resistance to fire and the sanctuary provided by his ancestors, he knows no spells.
"Go away, outlander."
"Don't push your luck, mister."
Quest-Related Events
Edit
If you ask Daren Adryn about Ahnassi, he reacts as follows:
Ahnassi

"Never heard of her. And none of your business if I did. So blow, like smoke, or I'll spill you like a baby's cup."
Mention the Khajiit a second time and Adryn will lose his temper:
Ahnassi

"You must be hard of hearing. And soon you'll be hard of breathing.

Goodbye
Related Quests
Edit
Daren Adryn does not exist until the related quest has been started.