This page is currently being redesigned for the Lore Places Project (LPP).
The page may need work to meet the standards outlined on the project page.
This page or parts of this page were previously transcluded to other pages per this discussion.
This page should be checked for potential unrelated lore and other information. Please remove this banner when the page has been cleaned up.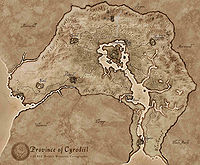 The Silver Road runs north to south from Bruma in the north to a point on the Red Ring Road due north of the Imperial City.