This page is currently being redesigned for the Lore Places Project (LPP).
The page may need work to meet the standards outlined on the project page.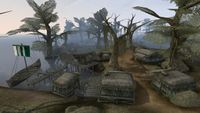 Hla Oad was a tiny fishing village at the southern end of the Bitter Coast region, southwest of Balmora on Vvardenfell. It offered few services, and was rumored to be a major stopover for smugglers. Circa 2E 582, Hla Oad was not yet a town, though the Sarandas Shack was found at the site of the future settlement.[1] Like most of Vvardenfell, it was likely destroyed during the Red Year.[2]
References
Edit