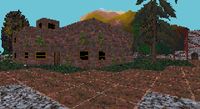 The Darkarn River is a body of water found in the province of Elsweyr. It is located somewhere near the Shadow Dance Temple, as its reeds were used in a litter for the passing of its Sage, Juhra-ri of the White Sand.[1]
The river has its name loaned to the village of Darkarn Place, which is found near the city-state of Alabaster.[2]
During the Imperial Simulacrum in the late Third Era, the village of Darkarn Place was an active settlement. It was ruled by Lord Akh'soud, and it had a rivalry with Valley Guard.[2] It was neighbored by several settlements, including Alabaster to the southeast, River Keep to the northwest, and Valley Guard to the north.[3]
The Darkarn River shares a very similar name to the Dakarn Clan of Khajiit brigands that waged war with the Vinedusk Rangers of Valenwood, across the provincial border in Reaper's March. They were active in the late years of the Second Empire. Remnants of this clan became the Duneguard Outwalkers.[4]
References
Edit