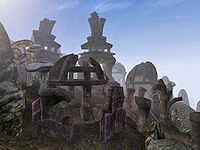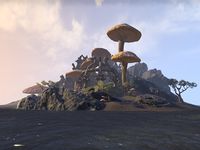 Ald Daedroth (meaning "Old Daedroth" in Dark Elvish) is a ruined structure located on an island north of Vvardenfell and west of Sheogorad Island, in the Azura's Coast region.
The ruins were once an ancient site of Daedric worship, containing statues dedicated to Azura, Malacath, Mehrunes Dagon, Molag Bal, and Sheogorath. Like many of the Daedric ruins of Vvardenfell, they were sealed off by the Ordinators of the Tribunal Temple to prevent worship of the Daedra Lords. The Temple occasionally made pilgrimages to Sheogorath's shrine. In hard times, the nomadic Ahemmusa Ashlanders of the northern Grazelands would take shelter in the ruins.[1]
As the threat from Dagoth Ur began to grow in the late Third Era, the Ordinators were no longer able to guard the isolated Daedric ruins. Led by Hlireni Indavel, worshippers of Sheogorath flocked to Ald Daedroth. In 3E 427, a contingent of Ordinators were sent to the ruins to clear out the worshippers and their Daedric servants. The insane worshippers viewed this assault as a dance and resisted violently. Amid this chaos, the Nerevarine arrived at the ruins, having been sent by the wise woman of the Ahemmusa to make the ruins safe for her tribe. It is unknown how the worshippers and Ordinators were subdued, but Ald Daedroth was secured for the tribe. That same year, the Temple made a pilgrimage to Sheogorath's shrine and left the Gambolpuddy as an offering to the Mad God. Several artifacts of Sanguine were also liberated from the ruins by the Morag Tong.[2]
References
Edit