To meet our site's higher standard of quality, this article or section may require cleanup. It currently falls under the jurisdiction of the Daggerfall Redesign Project, but anyone is welcome to improve upon the quality of this page.
To leave a message about the cleanup for this article, please add it to this article's talk page.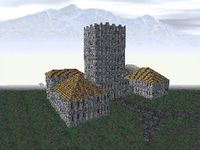 The Direnni Tower is a castle with a large, round tower at the highest point of the Isle of Balfiera in the Iliac Bay. It is the home of Medora Direnni, former court sorceress of Daggerfall.
When Queen Mynisera banished Medora from court, she had a curse placed upon the tower to prevent Medora from leaving.[1] It is said that the trapped sorceress' attempts to summon the ghost of late King Lysandus caused the tower and all of Balfiera to be haunted by undead.[2][3]
Dungeon Layout
Edit
Using in-game denotation for dungeon-modules:

                              B0000007
                    B0000006  N0000020  B0000008
          B0000005  W0000004 @S0000181  B0000009
B0000004  S0000180  W0000003  N0000012  B0000010
          B0000013  B0000012  B0000011

Dungeon-Modules: 16
Quest Locations: 12

Related Quests
Edit
References
Edit