Theodor Gorlash
Location
Town
Race
Breton
Gender
Male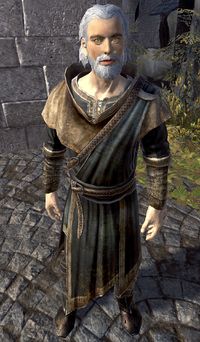 Theodor Gorlash is a mad Breton who can be found in Town after Lumber Run. He takes great interest in the Abyss and aids you on your journey. He can change your character's appearance, gender, and race.
There is evidence to suggest that Theodor Gorlash is actually Sheogorath, the Daedric Prince of Madness, disguised as a mortal. His name is an anagram for "Lord Sheogorath", his voice is the same as the Mad God's, and he bears a close resemblance to him, such as his unnaturally golden, glowing eyes. Lastly, when asked about him, Town's residents act as if he doesn't exist. This fits with Sheogorath's ability to manifest, should he choose, to the eyes of the insane only.
He also has an uncanny knowledge of the questions you want to ask him and suggests knowing the answers you seek for quests, but either chooses to abstain from intervening or claims to enjoy watching you struggle to find it from others too much to help. This suggested omnipotence is frequently given a comedic spin, similar to Sheogorath's confusing trains of thought, via incorrectly predicting what your question is, such as his insistence that the player is always trying to ask if Justiciar Aranande likes them while she is in town.
"At long last, we meet again for the first time! Such an unexpected - and yet carefully planned - encounter!"
Are you not glad to find that we are in the same place at the same time?"
I'm sorry, have we met before?

"We have, and have not. Don't worry if you don't remember me; I can remember for the both of us."
That makes no sense.

"That's what makes this place so special, you see? Think of all the possibilities! Or don't - you'll go mad!
Oh, but where are my manners! Please allow me to introduce myself...
I am Theodor Gorlash, from High Rock, but also from here - wherever "here" is.
I like to travel without moving, to taste without eating, and to dream without sleeping."
You really are a loony.

"The word you're looking for is "eccentric""
Same difference.

"Is it really, (PCName)?"
Or
Sure. What's your name again?
"My name… my name… of, it's on the tip of my tongue! No, wait… I swallowed it. Mmh, delish! That's okay, I'll just come up with a new name. An even better one!"
You're insane…
"Me? Nooo… well maybe. Does it really make a difference? Don't answer that. A new name comes. I am Theodor Gorlash, from High Rock, but also from here – wherever "here" is. I like to travel without moving, to taste without eating, and to dream without sleeping."
I've had enough of this…
"Have you, (PCName)?"
Both will lead to:
How do you know my name?
"Sorry, come again?"
How do you know my name is (PCName)?
"Ah, so that is where I know you from! This actually is our first encounter, when I learned your name for the very first time. Glad we could settle this, we can now move on to other topics.
There is a trivial matter we must discuss before anything else, one of vital importance!
The old crypt entrance where you used to play with your friends… Have you been there since your return?"
Not yet.
"It now leads to a never-ending series of rooms and corridors, both real and unreal at the same time. I call it "the Abyss.
This Abyss appears to be unlike any place I've ever seen, and this interests me greatly!
You should go explore it and then tell me what you find…"
We'll see
Or
How do I visit this "Abyss"?
"Oh, that's very easy. Let me explain using an arcane visualization spell!
I miss you already!"
"Hello, friend! Say, you look different today…
Did you change your hair? Your eyes? Face? Gender?"
I didn't change anything.
"Ah, I see… Would you like to?"
Sure, why not?
(?) or
I'm fine, thanks.
"Ah, too bad… Let me know if you ever change your mind."
If spoken to after this he can be asked questions and you can change your looks:
What else do you know about me?
"Why, we just met! I know very little about you, except that you once lived here, then left for the Imperial city... There you became a Blade, until you were forced to flee by the Thalmor."
I have no idea what you're talking about...
"Oh, right, I forgot, this is all supposed to be hush-hush! Never mind then. I don't know a thing. Don't worry, I don't really care for the Thalmor. Bunch of killjoys if you ask me..."
What do you know about the Sorcerer-King?
"There are two types of people: those who want to rule the world, and those who just want to destroy it. The Sorcerer-King's problem is that he could never quite decide between the two. That's what eventually led to his defeat. He won't be as careless this time."