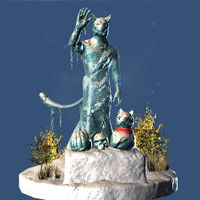 Ice Khajiit (Small_Ice_Kajit)
Type
Decoration
Size
Small
Quality

Uncommon

Statistics
Prestige

+150

100
1,425
Description
While covered in fur, Khajiit generally hate the cold winters of Northern Tamriel. This one doesn't seem to mind, though.
The Ice Khajiit is a small, uncommon quality decoration. It consists of an ice sculpture in the shape of a Khajiit, with ice sculptures of a pumpkin, skull, and cat in front of it.