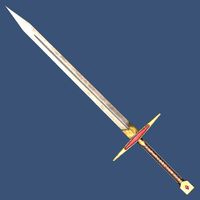 Chrysamere (Chrysamere)
(lore page)
Type
Heavy Slashing Weapon
Quality

Legendary Artifact

Player Level 23
Statistics

112.5

(?)

101.25

410
16,234
Description
Behold Chrysamere, Sword of Heroes, the legendary blade wielded only by those it finds worthy...
Effects

+48 Fire resistance.
Does 147 damage to Magicka.
Restores Magicka by damage done, up to 10 points.
+2 Health regeneration per second.
Chrysamere is an artifact with a mysterious origin, aside from it being unaligned with the Daedra. This greatsword's reputation is further augmented by the heroes that wield it, hence why it is known as the Sword of Heroes.