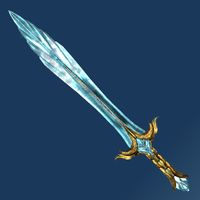 Chillrend (Chillrend)
(lore page)
Type
Versatile Slashing Weapon
Quality

Legendary Artifact

Player Level 50
Statistics
144
(?)
126
434
61,195
Description
Cold as a Skyrim winter and just as deadly, Chillrend cleaves enemies with its enchanted icy blade, and is repaired when you take frost damage.
Effects

Does 57 frost damage to Health and Stamina.
Frost damage is 15 points more effective at Freezing.
Prolongs target's elemental conditions by 16%.
Repairs itself by 5% of any frost damage suffered.
Chillrend is an artifact with an appearance similar to that of a glass longsword.