Angarion the Bold
Location
Arena
Race
Altmer
Gender
Male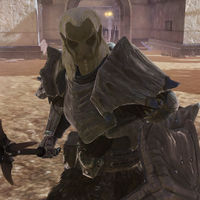 Angarion the Bold is participant in the Arena. He is vulnerable to frost and wears Ebony armor.
Related Quests
Edit
Defeat the challenger in an Arena fight:
Introduction lines
Edit
The following are comments made by him before the duel begins:
"I am Angarion the Bold, hero of the Battle of Roseguard, grand champion of the Arena."
"Don't tell me your name. I will not remember it anyway."
"Maybe I killed your brother, or something like that?"
"There's so many of you, it's hard to keep track."
"No matter. The Aldmeri fighting arts remain supreme."
"Something tells me there's a lot we don't know about you..."
"Don't worry. I'll figure out what your secret is, one way or another."
"Your fighting style is very unique... I wonder where it comes from."
"I'm surprised a fighter of your caliber would just spring out of nowhere..."
"You certainly have managed to catch me off guard thus far."
Rematch lines
Edit
The following are quotes he'll says if he defeated the player in the arena, and is encountered again:
"Wait, haven't I beaten you before? You seem familiar." —After losing to him in the first duel
"I am Angarion the Bold, hero of the Battle of Roseguard... but you probably knew that already." —After losing to him in the second duel
Defeat lines
Edit
The following are lines said by him after he is defeated in the arena:
"Oh... I think... I remember you now..." — After defeating Angarion in the first duel
"Perhaps I should... take better note of you." — After defeating Angarion in the second duel
"What... did you say... your name was again?" — After defeating Angarion in the third duel
"We'll meet again, warrior... you can count on it..." — After defeating Angarion in the fourth
"This... isn't the end of it... trust me." — After defeating Angarion in the fifth and later duels