"Perched on the edge of the great Elden Grove, Silvenar is a City-State of breath taking beauty. Tall minarets and spires worked out of marble rise out of the forest..."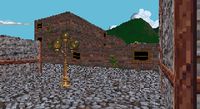 Silvenar is a city-state located in north-central Valenwood. The ruler is King Paligorn. Its rivals are Arenthia, Eldenroot, and Falinesti.
Locations
Edit
Inns

Black Dagger
Dancing Djinn
Devil's Golem
Dirty Castle
Dirty Skull
Flying Mug
Haunted Sword
King's Mug
King's Wolf
Laughing Sword
Queen's Golem
Queen's Skull
Restless Pit
Thirsty Goblin
Thirsty Guard
White Goblin
White Skull

Temples

Brotherhood of Seth
Conclave of Baal
Order of the Golden Tomb
Order of the Knights of Hope
Order of the Red Rose

Stores

Bargain Sundries
<random>'s Professional Equipment Store
<random>'s Supply Store
The Adventurer's Merchandise
Unearthed Supply Store
Vintage Merchandise
Silvenar is a possible starting location for Wood Elves.