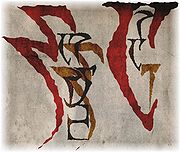 Contributions and Sandboxes
Edit
Today is Middas, the 18th of Sun's Height.
Feel free to leave a message on my talk page, I'll check it regularly.
Characters
Edit
Sarthes Arai
Edit
Sarthes Arai is a Dunmer adventurer and Agent of the Blades. He was an orphan raised by the Tribunal Temple of Morrowind, and was taught the ancient dunmeric traditions. He also had strong ties to the Empire, and supported it and its Divines as well. Although he showed great faith for Almsivi, he secretly even followed the Ancestor Cult of his nomadic kinsmen and worshipped the Daedric Princes.
Imeraia
Race
Altmer
Gender
Female
Level
27
Class
Mage
Appears
Other Information
Primary Skills
Alchemy, Alteration, Conjuration, Destruction, Enchanting, Illusion, Mysticism, Restoration, Staves, Unarmored
Faction(s)
Mages Guild (Master Wizard); Nine Divines (Acolyte)
Imeraia is an Altmer wizard. She travels all of Tamriel and beyond in search of knowledge.
Imeraia
Race
Khajiit
Gender
Male
Level
27
Class
Thief
Appears
Other Information
Primary Skills
Alteration, Illusion, Lockpicking, Sneak, Mysticism, Pickpocket
Faction(s)
Thieves Guild (Master Thief)
Rij-Dar is a Khajiiti thief.
Gorgon gro-Unsha
Edit
Gorgon gro-Unsha is an Orc warrior. Together with his mother Unsha, he grew up as a slave to a crazy altmeri wizard. It soon became apparent that Gorgon had a natural resistance to magic, which he used to slay his master and free himself from slavery. He despises all forms of magic and tries to fight them whenever possible.
Shadow-Scar
Edit
Shadow-Scar is an Argonian Vampire Shadowscale and Silencer of the Dark Brotherhood.
Alain Amelion
Edit
Sir Alain Amelion is a Breton Knight.
Urcenach
Race
Reachman
Gender
Male
Level
27
Class
Barbarian
Appears
Other Information
Primary Skills
Alteration, Armorer, Conjuration, Destruction, Light Armor, Mysticism, Two-handed Greatswords
Faction(s)
Companions (Shield-Brother); Forsworn
Userboxes
Edit
| | |
| --- | --- |
| | This user is a Madman in the Court of Madness. |
| | |
| --- | --- |
| | This user likes food, especially meat. |
| | |
| --- | --- |
| | This user is tired now. Go bother somebody else. |
Last modified on 8 April 2017, at 18:32