This page is currently being rewritten as part of the Online Quest Project.
The page is being both written and checked. All users are welcome to make changes to the page. If you make a change that is relevant to the project, please update this template accordingly, and make sure you have observed the project guidelines.

| | | | | |
| --- | --- | --- | --- | --- |
| | | Celebrate the New Life Festival with the Nords of Eastmarch. | | |
Breda, a New Life Herald, spoke of Lower Yorgrim's New Life Festival in Eastmarch.
Quick Walkthrough
Edit
Jump from Cub's Tumble in Windhelm.
Jump from Horker's Drop outside of Windhelm.
Jump from Dead Man's Fall west of Windhelm.
Return to Breda to claim your rewards.
Detailed Walkthrough
Edit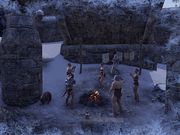 Getting the Quest
Edit
To get this quest, you must first speak with Breda, south of Windhelm. She will give you one of 9 quests; you can abandon a quest and speak with her again to get a different one. "The Nords of Lower Yogrim celebrate by traveling to remote places, stripping down to smallclothes, and leaping into the freezing water. You should take the Snow Bear Plunge! It is quite invigorating."
Taking the Plunge
Edit
The first place you must go to is Cub's Tumble, in Windhelm. Use a wayshrine to get there, or walk there; the location is on the docks in the east of Windhelm. Once you are at the location, jump off. (If you need the Snow Bare Plunge achievement, take off all clothing before jumping from any of the three locations. Otherwise, you can just wear your armor/clothing.) Jump into the marked section of the water. Doing this will inflicit you with the Freezing status effect, slowing you down. This lasts for two minutes, but if you go to the fire, ten seconds of the remaining time will be taken off every second, meaning you will only have to wait 12 seconds. This is worth doing.
The second place you must go to is Horker's Drop. This is on the bridge that leads into Windhelm, so go through the city and go to the bridge. Again, jump off the bridge into the specified area of water, and warm yourself up at the fire.
The final place you must go to is Dead Man's Fall. This is west of Windhelm. There is no use in getting there via a wayshrine, as the location itself is just as close to your current location as any wayshrine. Instead, just walk there or use a mount. Once you are there (the location is at the top of a waterfall), jump down one last time, and again warm yourself up at the fire. Use the nearby wayshrine to return to Breda and claim your reward, and get another quest if you want.
Quest Stages
Edit
Snow Bear Plunge
Finishes Quest
Journal Entry
To complete the Snow Bear Plunge, I must leap into the freezing water from three places in Eastmarch. First, I should head to Cub's Tumble.

Objective: Travel to Cub's Tumble

To complete the Snow Bear Plunge, I must leap from Cub's Tumble into the freezing water below.

Objective: Leap From Cub's Tumble Into the Water

To complete the Snow Bear Plunge, I must leap into the freezing water from three places in Eastmarch. Next, I should head to Horker's Drop.

Objective: Travel to Horker's Drop

Objective Hint: Warm Yourself at the Cub's Tumble Bonfire

To complete the Snow Bear Plunge, I must leap from Horker's Drop into the freezing water below.

Objective: Leap From Horker's Drop Into the Water

To complete the Snow Bear Plunge, I must leap into the freezing water from three places in Eastmarch. Finally, I should head to Dead Man's Fall.

Objective: Travel to Dead Man's Fall

Objective Hint: Warm Yourself at the Horker's Drop Bonfire

To complete the Snow Bear Plunge, I must leap from Dead Man's Fall into the freezing water below.

Objective: Leap From Dead Man's Fall Into the Water

I should return to Eastmarch and speak with Breda.

Objective: Return to Breda

Objective Hint: Warm Yourself at the Dead Man's Fall Bonfire

I should speak with Breda about celebrating the New Life Festival.

Objective: Talk to Breda
Last modified on 17 December 2017, at 08:16